Bafang Max Display Setup
Video Transcript: 
In this video, we'll show you how to set up your display on your bike with the Bafang Max mid drive. If you have a bike with a rear hub motor, please check out our other video on setting up the display for your bike as these displays vary depending on motor location.
To power up your bike press and hold the power button for two seconds. Once powered on, the bike's default pedal assist setting is for level 1. In total there are five pedal assist levels. You can change between pedal assist levels by pressing the plus or minus button on the display control located near the left grip.
The bike can be operated with the display on with no pedal assist by changing the pedal assist level to zero by pressing the minus button until no numbers are shown on screen. This will allow you to take advantage of the speedometer, trip odometer and other features of the display while riding without assistance from the motor. At any time when the display is on you can increase the pedal assistance while riding by pressing the plus sign.
Additional features on the Bafang Max series can be accessed by pressing the Info button. Riders can switch between screens at any time and show various display info including average speed, maximum speed, estimated range remaining, current motor watt output and estimated calories burned during the ride.
The display also features a trip odometer. The trip odometer can be reset by pressing the Info button twice quickly. The first screen will show T –  C, which stands for trip calculator. To reset, press the plus button once to change the yes or no symbol to Y. To exit, double click the info button and return to the home screen.

Other Repair & Maintenance Video Guides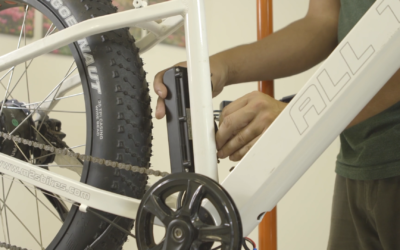 Our rear hub electric bikes include a removable controller that is mounted on the seat post tube. In the event of a controller failure, this unit is easily replaceable and can be swapped out for a new unit in around 10 minutes. For complete installation instructions,...